With the New Year around the corner, I looked back at this passing year, and boy, what a year it was! It was a revolutionary year that has transformed me in so many ways.
The New Year started off with my Mom being critically sick and during that time, I found the strength I never knew I had. Mom had a sudden heart problem on January 1. When she was unconsciously taken to Kathmandu on an air ambulance, we didn't know if that would be the last time we'd see her. Dad and my brother followed through while I was left behind to monitor business. There were recollections of the times I'd taken having a loving mother for granted as I stayed at home, waiting for the worst to pass.
In my family, I took the news the hardest. I shut myself from the world and cried myself to sleep at night. You see, when a member of the family gets sick, it's like everyone has the disease, because it is so crippling. Especially when the sick person is your mother. It changes the family dynamics. You are forced to learn new ways of living to accommodate the change and in trying to accommodate the change, I learned what it is like to be a mother. I cooked all the meals by myself; different dishes for each member of the family, looked after everybody and catered for the numerous friends and relatives who came to visit mom every day. I learned to value life and relationships and as a bonus to mom, I no longer make her wait on for me for meals.
After mom got back on her feet, we got back on our mission which was to launch a startup and it has taught me so many of the most important lessons I needed to know in order to get to where we are today. On the month of February, we dared to take the risk, dared to think lateral and challenge assumptions to get our solutions rolling. We passionately started nurturing our ideas from nothing to a business. We may actually be contributing to its woes as much as we're contributing to its prosperity but it's been a never-ending learning process for which, I am immensely grateful.
Starting a startup felt like taking one step backward for every two steps forward. It took grit and I had to push myself outside of my comfort zone on a regular basis. To prioritize my career goals, I stopped pursuing my newly discovered endeavor of being an IELTS instructor but to add to the challenge, I'd applied and had been selected to be a speaker to speak at WordCamp Kathmandu which took place on the 17th March. As a first time WordCamp attendee and a Speaker at that, I was a nervous wreck. I spoke on the title 'You should blog (Even if you're killing it on Instagram and Snapchat'. However, once I got started and was relieved that everyone could hear me, the time flowed by pretty quickly. It helped that there were a few friendly (and encouraging) faces in the audience to listen to my talk. WordCamp Kathmandu was a unique experience for me. It helped me conquer my fears of public speaking but more than that, it introduced me to a Community I knew existed but hadn't bothered to be a part of. I had no clue what to expect, aside from a day filled with everything WordPress but It was a fun experience to me as I'd never before witnessed a tech event with so many passionate attendees.
March was a real turning point for me as I also traveled to the Karnali Region right after WordCamp Kathmandu. It was a different story altogether. I witnessed intangible heritages of Karnali and moments that tugged at the heartstrings. They were difficult to even put into words but I tried. I wrote a blog about it.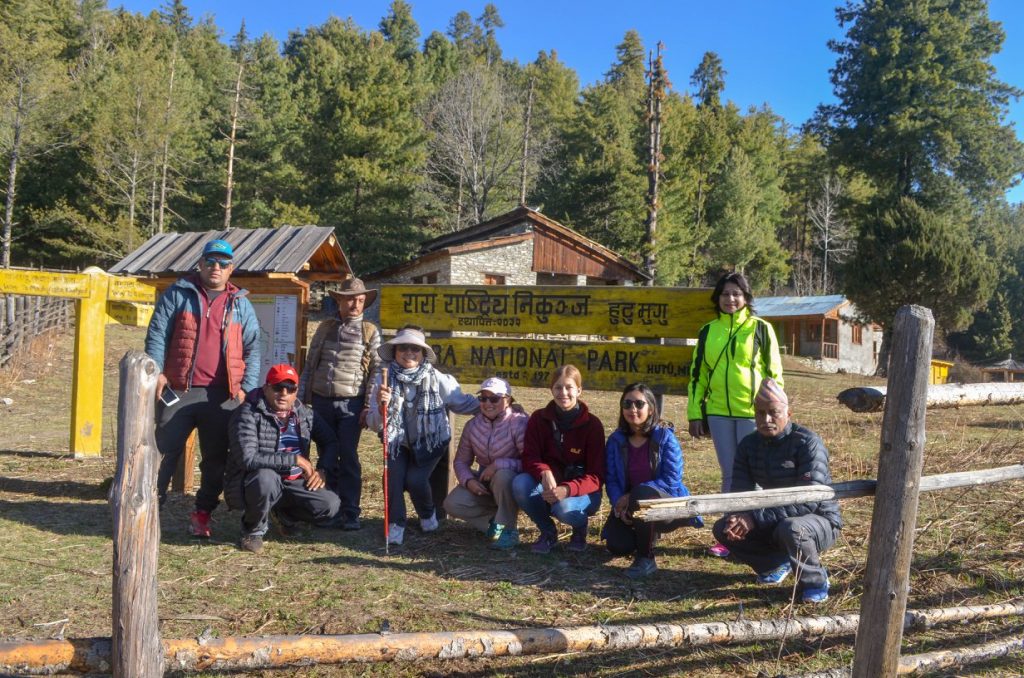 I don't have recollections of what I did until June but June was an interesting story. Especially for me and my brother. After all that happened to Mom in January, Dad comprehended the uncertainty of life and decided to take us all on a holiday to Canada. Obviously, my brother and I were giddy with excitement. ABSOLUTELY thrilled at the idea of traveling to North America.
We literally dug through the internet to plan the trip. Our tour was for a fortnight and within that frame of time, we managed to travel around many places in Vancouver and Toronto. For the first two nights at Vancouver, we managed to get off on our own. We booked an airbnb to crash in and booked hop-on hop-off rides to explore Vancouver. We loved Vancouver for its cosmopolitan feel, markets, museums, music and plays, distinct neighborhoods, efficient transportation, jaw-dropping beauty, and just down-right friendly people. But most of all, it was pretty with lots of green areas amidst the towering skyline.
On the third day, we traveled to the Sunshine Coast which is located in the south-west of British Columbia to be with our cousin who lives there. The rugged mountains bordering the place cut it off from direct road connection to the rest of the province, so we had to use the ferry for transportation. Sujan dai was there to pick us up at the harbor and although it was the first time I and my brother met him, he was a very loving person and we felt like we'd always known him. He also had a nice house overlooking the Pacific sea in Sechelt. His house felt like a holiday home to us and we wished we were there longer.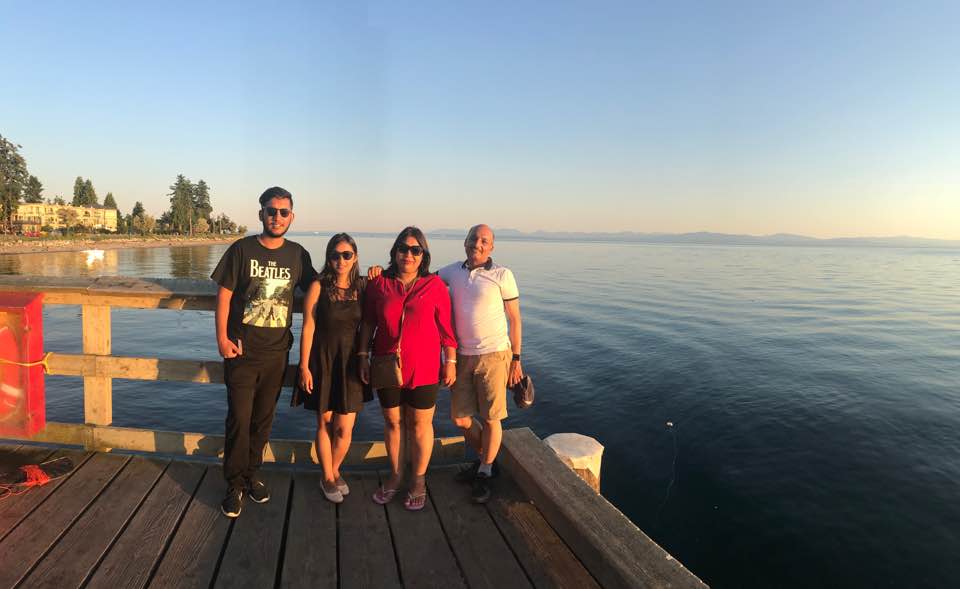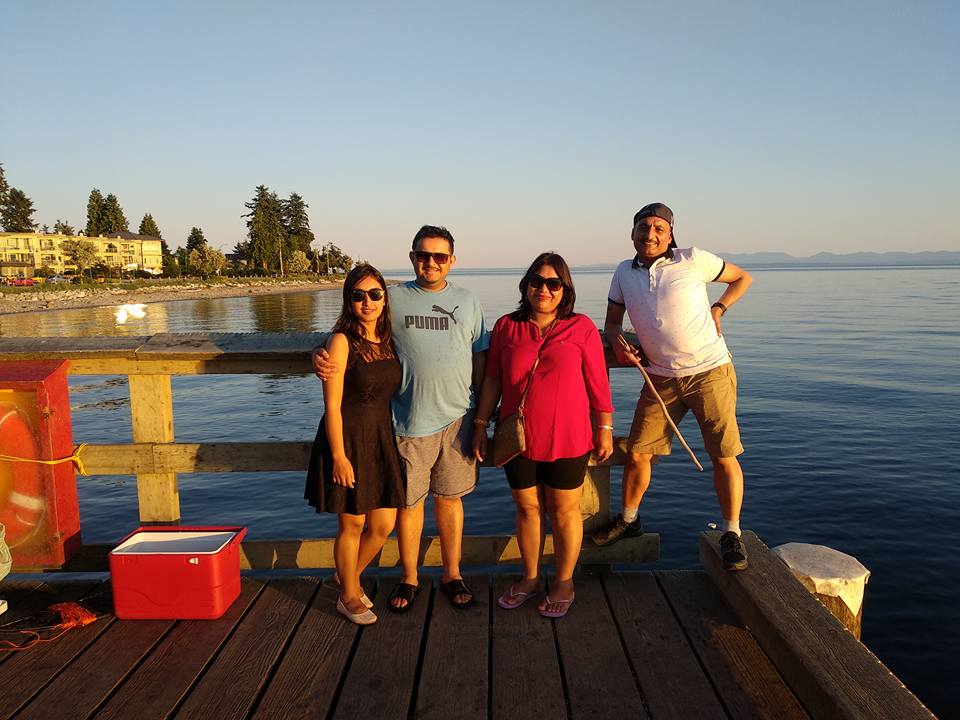 The next day we toured around the Sunshine Coast and returned to Vancouver with Sujan dai. We stayed at his friends place where bhauju and the triplets we also staying. Aahi, Riva and Keisha; the triplets, Jolly Aahan and, little baby Aashna were a delight! Imagine having five little kids in one household. So much fun! 🙂 We took turns holding the triplets and were entertained by the little gentleman Aahan. We watched them light up to nursery rhymes, laugh with glee and cry on the top of their lungs, all in unison and even Saurab who doesn't have a knack for babies unlike us was happily holding and trying to entertain little Keisha who seemed to have grown fond of him and cried every time he left her. That night, Saurab and I who had always romanticized what it's like to RV excitedly slept in their RV.
The next day, the triplets were getting their shots and we followed suit. It was an interesting experience but we had to eventually bid farewell to the contagious little smiles that truly melt our hearts. We toured downtown and lived in a studio apartment they had atop Gurkha Restaurant at Davie St. It was a gem of a place and we also got to replenish our cravings of Nepali cuisine.
On the 22nd of June, we flew to Toronto. The deal was to attend the Rotary International Convention, tour Toronto and visit the Niagara Falls with our Cousin and his wife. At Toronto, we stayed with Mary and Ian and we all had dinner every evening at Barabara and Ted's place. It was a pleasant stay and we had quite a cultural exchange. They made us Canadian Cuisine and we saw how four active young seniors in their early seventies spend their time in Canada; the stark difference in how people age themselves in different parts of the world. Mary and Ian took us to their farmhouse and also toured us around Toronto.
The Rotary International Convention that we attended had brought 24,000 Rotary club members from over 175 countries into a cultural mosaic as the organization's global network of volunteers gathered to exchange ideas on how to improve lives and bring positive, lasting change to communities around the world. I was pleased to be a part of the conference which had the presence of notable personalities like Laura Bush, First Lady of the United States, Caryl Stern, president and CEO of UNICEF, Helen Clark, former prime minister of New Zealand and Justin Trudeau, the Prime Minister of Canada.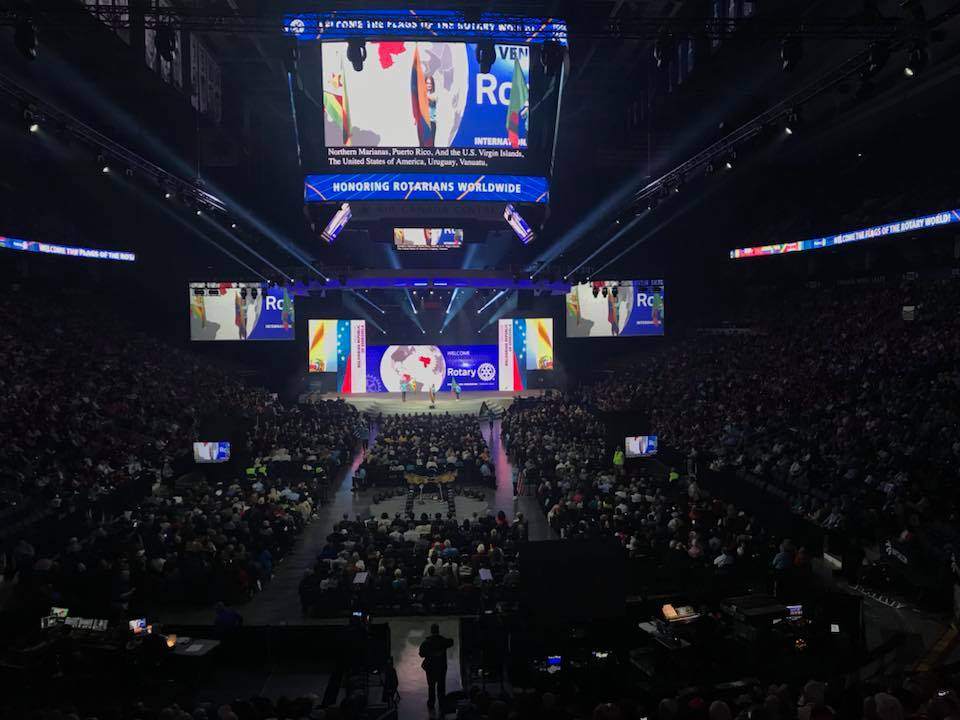 We took a break from the Convention on the second day to make a trip to the heavenly Niagra Falls with our Cousin Shyam dai and his wife Januka Bhauju. They'd made a road trip from the US to spend time with us. In the 2 nights and 3 days that we spent together, we enjoyed the sheer natural beauty of the falls in broad daylight as well as the mesmerizing dazzlingly lit up by fireworks falls at the night. We watched the fireworks from the 700 feet high Skylon tower as well; it was a view to die for! The Hilton Hotel that we stayed at provided beautiful views of both the waterfalls and I woke up several times at night to the sound of the falls just to stare at the bewitching beauty from the glass window. Those two nights, it felt to me like I'd been teleported to heaven. Everything was so perfect. It was the happiest I've ever been.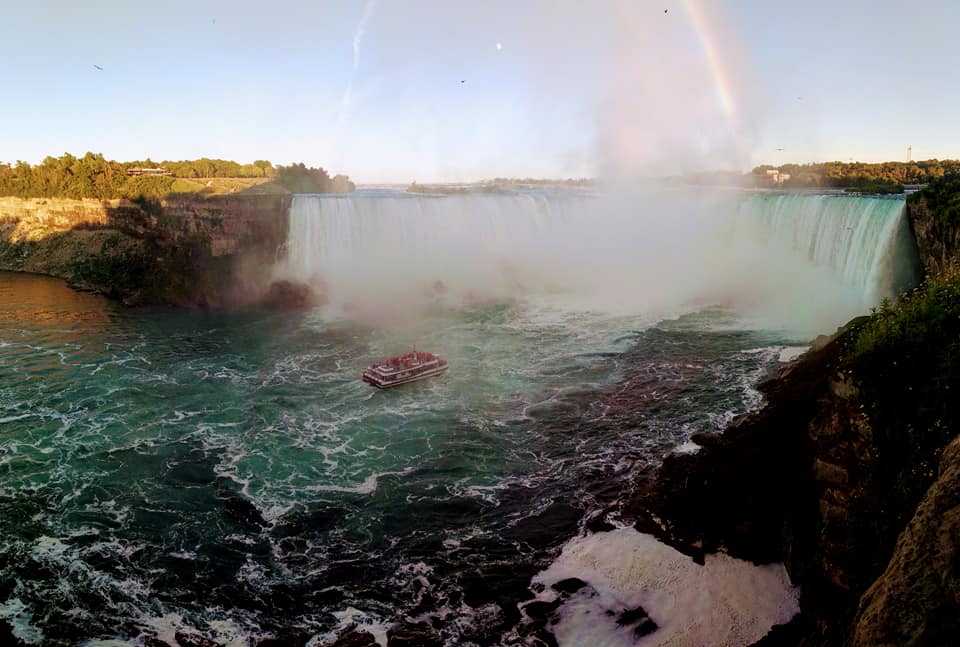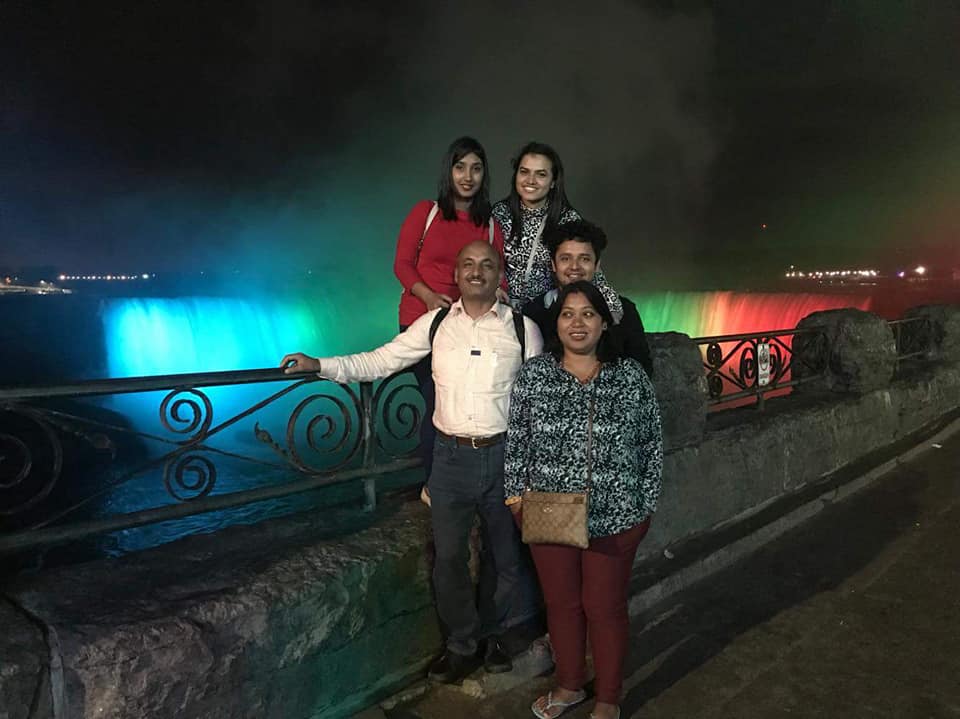 Besides being awed by the falls, we also managed to get some shopping done, we went to a casino to try our luck and had intimate moments like snacking, sharing a Jacuzzi tub among the six of us and talking about home. We barely slept! In the short time that we spent together, we created memories will be engrained in our minds and hearts forever.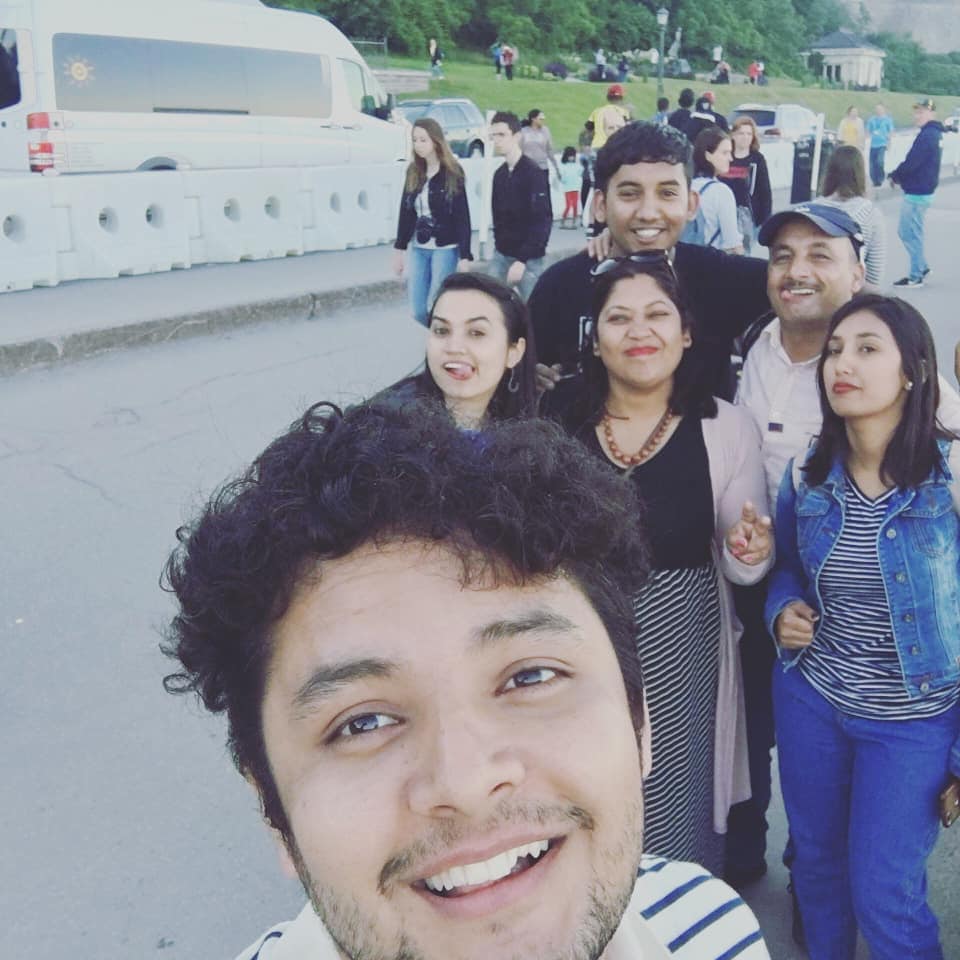 After Niagara, we returned to Toronto, attended the rest of the convention and met my friend Neha. I'd first met Neha when she was on her solo trip to Nepal. Although it was just our 2nd time meeting each other, the joy I experienced from meeting her had less to do with how long I had known her and more to do with how she made me feel. We also went to the public library and her favorite bookstores and had our final dinner at Canada with her family.
Back home, there were some post-vacation blues and then life went back to the usual- in the blink of an eye.
In July, I turned 25.
I felt simultaneously really old and not old at all and I really wasn't in the mood to celebrate. I went great lengths to avoid the fact that I'd turned 25. I deactivated my facebook and told my family and friends that I wasn't celebrating. I felt ancient and knew that I'm nowhere near where I want to be. The thing is that, with our Nepali society and family culture, I felt like my time to prove myself was running out of time and couldn't help but feel a tad stressed about the hullabaloo around being a viable, marriageable age. I wished I'd been born somewhere where people would talk to me about my dreams, my hopes, my aspirations rather than worrying when and to whom I'd get married. Because marry, I will even if people ask me not to. It's my aspirations in life that need inspirations.
Not much time has passed between now and then but there's been a lot of realizations as I live by this quote:
"I know people who graduated college at 21 and didn't get a salary job until they were 27. I know people who graduated at 25 and already had a salary job. I know people who have children and are single. I know people who are married and had to wait 8-10 years to be parents. I know people who are in a relationship and love someone else. I know people who love each other and aren't together. There are people waiting to love and be loved. My point is, everything in life happens according to our time, our clock. You may look at your friends and some may seem to be ahead or behind you, but they're not. They're living according to the pace of their clock, so be patient. You're not falling behind, it's just not your time." – Julissa Loaiza.
I'm finally convinced that my parents are not the type to marry me off just because I turned 25 and with a whole lot of passion and hunger to not only reach but create my own potential. I am excited by the fact that my life is only just beginning. Btw, my birthday is on 17th of July and I'm celebrating with pride when I turn 26.
September was when I had my FIRST SOLO trip. 🙂 A few months ago, through the recommendation of a friend, I'd applied for a 'Women in Tech' special scholarship to attend the 'Bits and Pretzels' Founders Festival in Munich, Germany and luckily, I was accepted.
I went to Germany on the 24th of September, stayed there for ten days and traveled to five different cities all by myself (through the help of my dear friend Rashmi who lives there.) but I'm still willing to pat myself on the back for having the courage to throw myself out of my ordinary and do something that not only excited but also terrified me. And I'm happy to say that my trip went off without a hitch (if I don't count me losing my purse in Oktoberfest) and I would do it again in a heartbeat.

I only spent ten full days in Europe, but I certainly packed enough activities in that I feel like I was there much longer. My five stops were Frankfurt, Bad Oeynhausen, Essen, Cologne and Munich. At Frankfurt, I stayed with long-time family friends who are German. We went to Koblenz, visited two different castles and in the evening, I hung out with Daniel and his friends. We went bowling and had I had my first craft beer there.
Bad Oeynhausen was where my cousin Madan and Dana bhauju lived. They had just welcomed a 5 day old baby boy at home and I felt overwhelmed when Dana bhauju, 5 days postpartum came to receive me at the train station. My fupu was also there for the baby's arrival and she took me for a quick tour around the place. It truly felt good to see her defying the age culture that we have back home by being an independent and active senior who was also dressed for her comfort.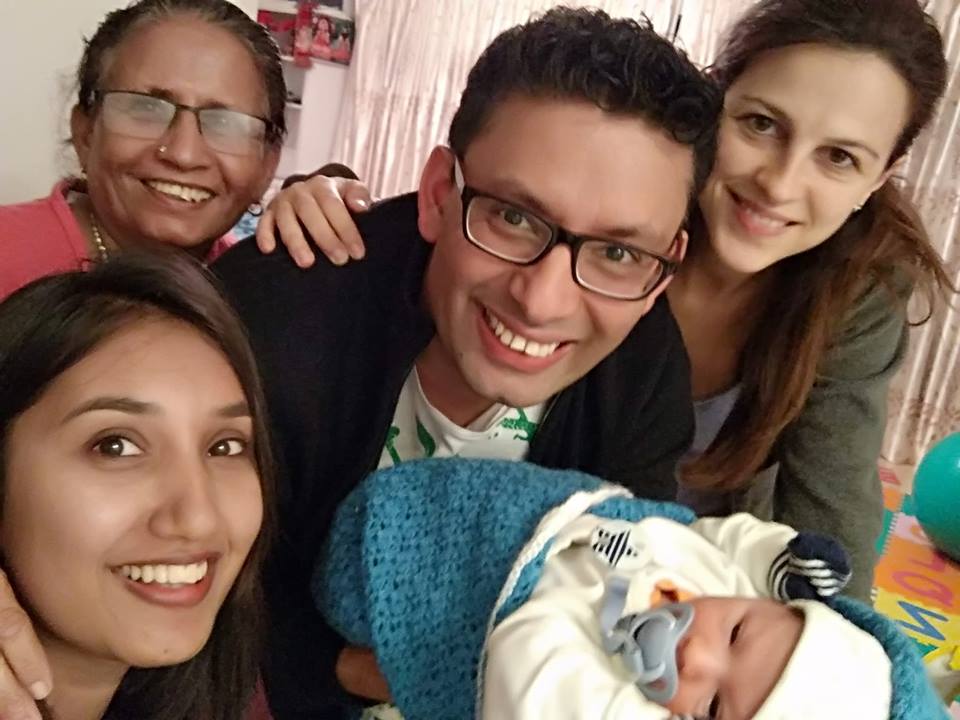 The next and the most exciting stop of my trip was at Essen where Rashmi lived. It was exciting as we had so much to catch up with. We did non stop talking, shopping, fired our camera shutters at least 1500 times, had really good food and went to different places. Between rain in Colonge and our inability to make quick decisions, things didn't exactly go according to our plan but we had a pretty amazing time together. The one thing that distinguishes adulthood from childhood is the one-two shot of independence and responsibility. We finally felt like we'd had ours.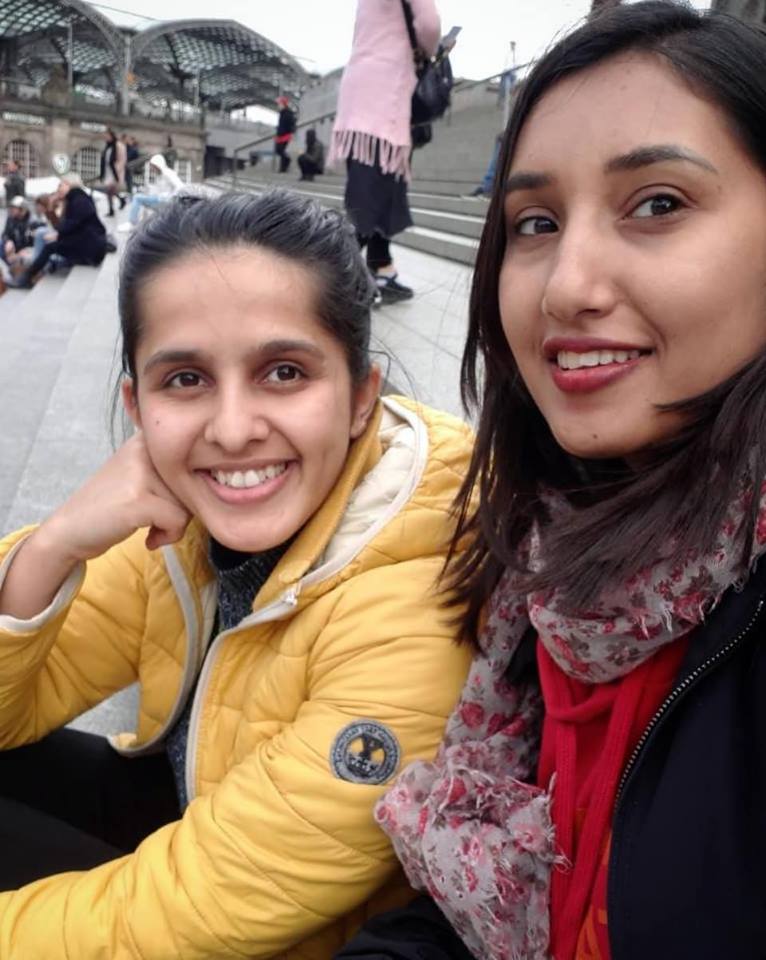 After 3 days and two nights of Badassery, I had to leave for Munich. At Munich, I stayed with Erdal's family. The kids Tugay, Felia and I communicated despite the language barrier (Thank you, Google Translate!) but Azra was too young to talk. It felt like home. I was loved and taken good care of by Erdal and Lucia. We also went to Oktoberfest; Germany's renowned beer festival with their friends who were really nice to me.
At the Oktoberfest and also at the conference, locals donned their lederhosen and dirndls (The traditional Bavarian costume). In my experience, Oktoberfest was all about sharing tables and guzzling liters of beer. (Honestly, the 1L stein of beer was so heavy I had to use both of my hands to lift the drink). It felt almost like a family gathering (a really large family, but still), and there was a sense of intimacy despite the vast size of the tent and chaos of the event.
At Bits & Pretzels there were so many startups showing off an incredible amount of cool, useful, exciting, and surprising products that will definitely remain in mind and memory. Although nervous to be attending the event alone at first, I gradually learned to enjoy meeting people from completely different walks of life and discovered new ideas. I was quite impressed with Germany's innovative and entrepreneurial power. At the founders festival, I pitched, networked and celebrated with complete strangers and honestly, the whole trip was an experience I would not trade for the world. Thank you, Germany! Prost!
After Germany came the festivities which were fun as usual. During that time, I also had the privilege of meeting and spending time with people I've grown fond of and idolize.
I think 2018 for me was all about stepping out of my comfort zone because on October 24th we organized Pokhara's first WordCamp. 'WordCamp Pokhara 2018' was an event of many firsts to me as well as our team and it was an event where I wore many hats as an Organizer (Speaker and Finance Wrangler). I gave the opening keynote and also interviewed Mr. Narayan Koirala for the session 'Pearls of Wisdom'. WordCamp Pokhara was a good learning experience to me for which I will forever be grateful.
After the first WordCamp speaking experience at Kathmandu, along came the second one. Yes, really. On December 22, I spoke on 'Digital Revolution and what is next for our society' at WordCamp Biratnagar. Terrified at the sight of so many attendees, I don't really remember talking anything but there were applauses so I guess I must have done fine. Biratnagar had put in a lot of effort in organizing the event and had gone through great lengths to make it a successful one.
We sneaked out mid-event and went to Jognini, the entry point between Nepal and India. It bewildered me to see how easily you could enter either country and even disappear without leaving any trace. With that short excursion, we successfully stamped my friends first International Travel and although the part of Bihar that we went to wasn't quite remarkable, it was the company and the laughter we shared that were precious.
2018 is/was the year that I decided that I'm not going to spend my time with people who do not deserve me. I chose to be career oriented. I decided to choose the people I wanted to be associated with, scornfully rejecting my natural tendency to be nice to everybody. It was a painful decision to make and even more challenging to apply but I'm happier than I've ever been and I'm proud of my choices.
Some people and events have been omitted here due to privacy purposes but I've had more special moments and met truly inspiring people who have had a huge influence in my life.
Thank you 2018 and everybody I was associated this year for all the lessons. Thank you for treating me well. Because of you, I'm a completely new person from who I used to be a year ago.
Happy New Year 2019!