The snow-covered mountains, the high alpine meadows, the rocky cliffs, the thick forests, the rich human habitation, the frantic aquatic world and the rich genetic biodiversity of what forms an integral part of the Karnali region is vivid. It's much more than even rainbows. And yet, Karnali is blue.
On 19th of March, 2018 we embarked on a journey which gave us infinite moments that took our breath away and in those moments, I learned more about life than I've ever done.
Perhaps, it's about time we looked back and realized how lucky we have been so far and maybe, it's about time that we paid back to help the less fortunate. Through laughter and tears, comfort and discomfort, discussions and counter discussions, ups and downs, singing and dancing, sharing and caring, our  KARNALI EXPEDITION gave us all memories to last a lifetime.
Fact: Mugu is located in the North-West of Nepal, in the Karnali region. It is extremely mountainous and can only be accessed by mud tracks and by air. Mugu is also home to the beautiful Rara lake, the biggest lake in Nepal. However, it has some of the lowest Human Development Index outcomes in Nepal. It was 67th out 75 Nepali regions in 2011. There are no basic services and this has left the local population vulnerable to a variety of health issues and malnutrition as well as challenging education facilities.
Reminiscing about our prized 'Empower Karnali Expedition':
Day One: Pokhara to Kohalpur
Our Journey started a few hours later than we'd planned for as it took a lot of time for us to load all of the goodies we were taking with us for our school support program.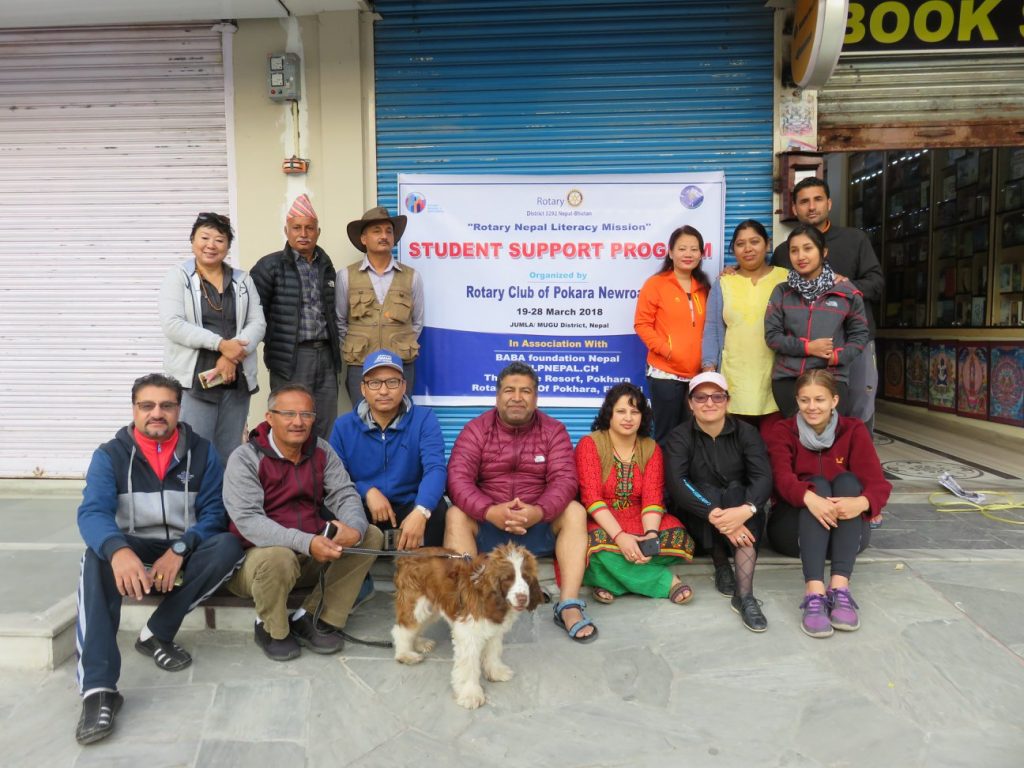 We finally finished loading the supplies at 8 am and left Pokhara, the 12 of us on two pickups and a car, receiving a warm send-off by family and the members of  Rotary Club of Pokhara Newroad so although we had planned to stop and call it a night at Surkhet, we couldn't make it and stopped after a 12 hours drive of travelling 501.2 kilometres at Kohalpur.
The freshly made beds and hot shower at Hotel Poplite in Kohalpur was a privilege after the long drive.
Day Two: Kohalpur to Kalikot
On the second day, we drove early morning from Kohalpur to Surkhet. The weather was very pleasant as we drove along Bheri river and the beautiful valleys.
For lunch, we stopped at Dailekh. As we sat at a restaurant and were waiting for the food that we'd ordered, a group of kids ran over to us and sang popular Nepali songs their very well rehearsed voices. Touched, we urged them to sing more and awarded them with pocket money but then, a larger group of kids arrived and they too started singing.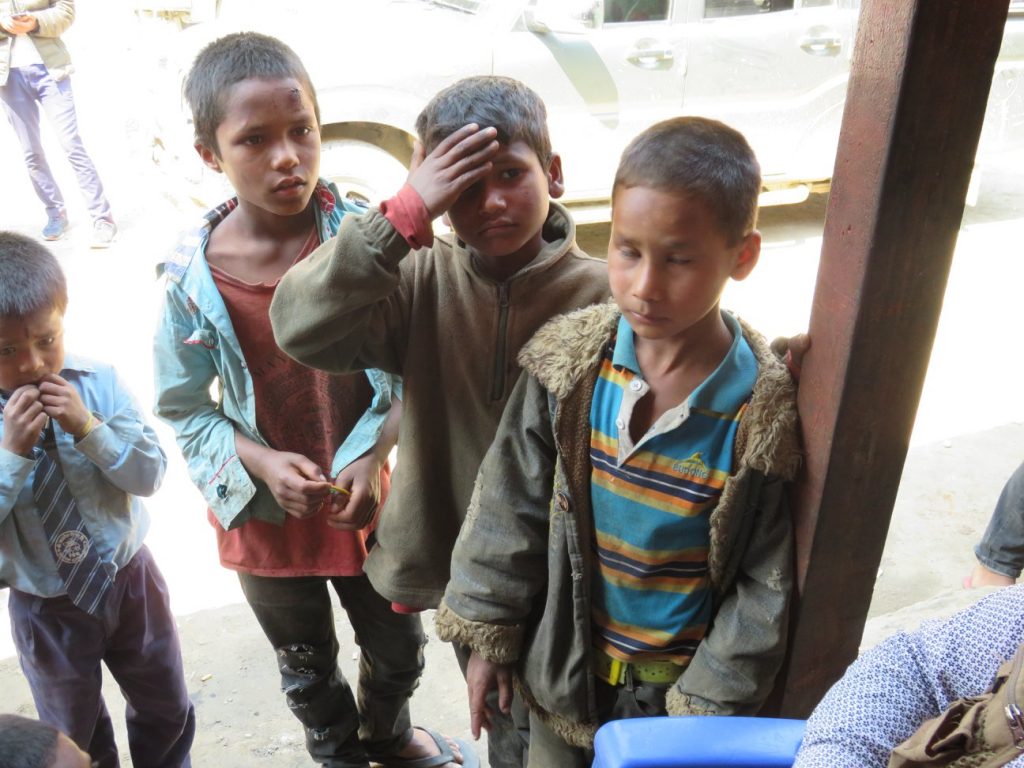 After a jolly time together, we learned that the kids there had taken singing as a means of capturing the hearts of tourists and earning money which they later traded for watching movies on cellphones and buying rubber tubes for swimming at the nearby river. To pursue their self discovered careers, they'd resorted to skipping school and sending time around the restaurants instead. Not so impressed with the discovery but still charmed with their voices, we bought them notebooks instead. Upon gaining knowledge about the 'badi' community where the kids were from and the practices prevalent in their societies, we wished we'd included some schools of that area on our list as well. We shared our lunch with flies and left Dailekh.
The road leading to Kalikot from Dailekh was a pain as we had to cross rivers with no bridges. The roads were so narrow there was hardly space enough for one vehicle could pass at once. Several times, we had to get out and push the car. To make it worse, a truck and a pickup had tried to fit in the narrow road at once but couldn't. This resulted in the pickup getting a little scratch on its body and the road was blocked for several hours as they decided over whose fault it actually was.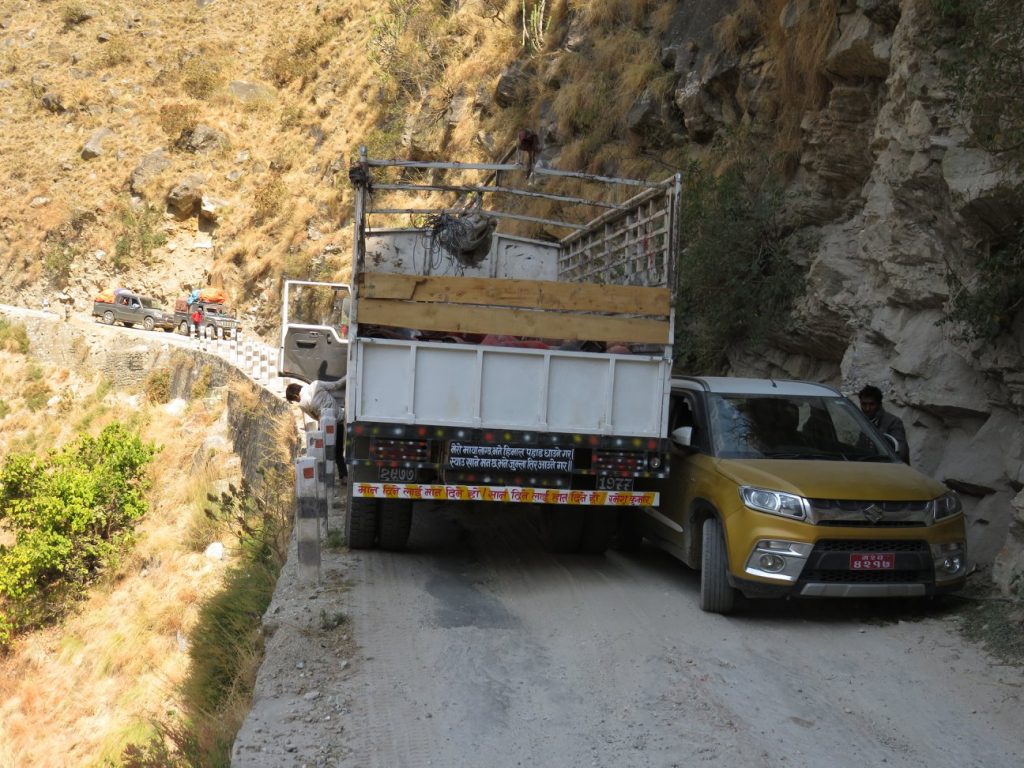 By the time we made it to Kalikot, it was pretty dark. We were stopped several times along the way as  Kalikot is a place that had gained popularity nationwide during the time of Maoist Insurgency in Nepal as one of the headquarters of the Maoists. It still had curfews every evening after 8 pm and no vehicles were allowed to pass through the headquarters. It took some convincing but we were allowed access and reached our hotels at 9 pm.
After having to wait crammed up inside the car for hours due to the blockade, we were filthy from the dust and itching for a nice shower. Luckily for us, the hotel that we stayed in was quite new. It even had WiFi and we felt like royalty when presented with hot daal bhaat, clean beds, and hot shower. Things that totally topped our expectations.
Day Three: Kalikot to Jumla
We woke up well rested and took a walk around Kalikot in the morning. The clustered human settlement atop the hill overlooking a scenic view had a village market selling fancy clothes, shoes, and gadgets, very much similar to the ones we find here at Mahendrapool in Pokhara. We interacted with a lady politician of the area and returned to our hotel to pack our bags and start the day's journey.
Kalikot

The Bazaar
Although we'd been advised and even warned against taking a car without a 4 wheel drive on the road Jumla, Dad was pretty adamant and couldn't be told off. The people there will never recommend that you travel beyond that point in any vehicle that's not 4WD. However, they will not stop you from travelling up the dirt road. We took some chances but with the number of goods we were carrying with us, we also didn't have much of an option anyway.
The place called Nagma forks the route to Rara and Jumla. The road on the right leads to Jumla whereas the other leads to Rara (Mugu).
The road to Jumla was well paved at most places but terrible at the others with dangerous narrow roads and steep cliffs. The view from the window seat was breathtaking as well as scary and often times, we had to push our car with help from some villagers too at some places where the road was badly damaged.
We were all starving by the time we had lunch. We had lunch at a place called Sitanagar in Jumla. There were no restaurants nearby so we requested the villagers and they cooked us a meal of red rice and Himalayan goat meat. We were quite surprised with their way of living and seeing the neediness, we also decided to do a distribution at a school there on our way back.
When we reached Jumla, it was still daylight. I found Jumla fancier than I'd expected with concrete houses, hotels that offered WiFi and boarding schools. The contrast between the villages we passed by and the center of Jumla was startling. People had adopted tourism as well as agriculture as a source of living which was different to the high and dry lands in Mugu region. We had a difficult time finding hotels as there were very few and most of them already booked but the one we found was also a catch.
We strolled around the local market and also did a meditation at a Bhairab temple there. Although it was chilly, our hotel provided us with blankets warm enough but we weren't lucky enough to get hot showers here.
It rained at night and I was so worried sick that we wouldn't be able to take our car back through the muddy tracks that I even dreamt of it. In all honesty, the unpaved section of road is pretty mean. I was aware of the fact that if the car breaks down going uphill, you just pull over and stop but If it's going downhill, you have to be careful. You need to downshift and use engine braking, otherwise, you could cook the brakes, and then you wouldn't be able to stop, and that's probably how the majority of people run into trouble driving in mountainous areas. The rain would be making things worse!
In my dream, we had to leave our car there and return home on Tuk Tuks. Yes, there were Tuk Tuks that operated around Jumla.
Day Four: Jumla to Somewhere in Mugu.
HILLS TURNED INTO MOUNTAINS OVERNIGHT!!!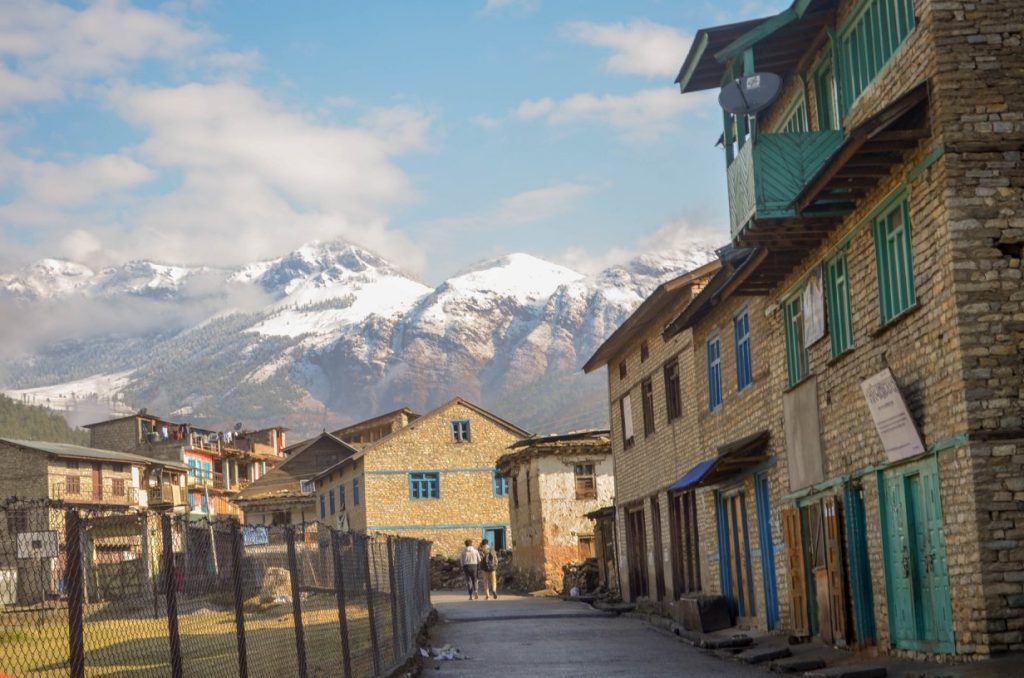 We woke up to a magnificent view of mountains surrounding us. The rain last night had converted all the hills into mountains and it was a view worth living for.
After a walk around Jumla early morning, we went to do a distribution at the government school, 30 minutes walk away from the bazaar. The children, some of whom were walking barefoot were overjoyed when they received the bags having notebooks, sweaters, shoes, and socks inside. Besides the school supplies, we also had reusable sanitary pads with us so we cornered girls, gave them a talk and distributed the reusable sanitary napkins, raising awareness by letting the young girls and women know that "Menstruation" is a physiological phenomenon and not something to be ashamed of.
Our motive was to help them raise their voices against "Chaupadi".. a practice which is still prevalent in the far west, of elders hiding their girls during their menstruation period, (most often in cowsheds). We got a good response from the girls and women folks while we went to the villages distributing reusable sanitary napkins and talking to them.
They were shy in the beginning to even admit they bleed but once they got past that, they even raised the pads for a group picture.
The reusable napkins that we'd taken were designed for high absorption and could be reused after washing. The design was beautiful so that they would not have to hide the napkins at dingy places. The men also looked skeptical in the beginning as we were talking loud and clear about the taboo but later, the tension eased.
We left Jumla after the distribution, hoping to reach and have lunch at the same place as yesterday. After lunch, we did a similar distribution there and also the 'menstrual hygiene' talk. It was very satisfying.
We drove past many wooden bridges on our way, where figures were carved in wood stood sentinel as if guarding the place against enemies and outsiders. They looked as old as the mountains and were a masterpiece, each one of them.
The road taking to Rara was all mud tracks and since we were lighter in weight after the two distributions, we left our car at Nagma (the fork) and adjusted ourselves in two pickups. Sadly, we were nowhere near Rara even after sacrificing time to eat for non-stop driving. The road was scary and the ghost stories being shared didn't help either. Somewhere at some point, we saw a guest house and stopped there.
The ladies all went to bed without dinner which was a good thing to do, hearing what the men had to say about food served there the next day but even after all of that tiredness, rest was not granted. The cubicles which formed rooms had two small single beds in each. One room smelled so disgusting we couldn't breathe. On further investigation, there was a smelly pair of socks under the bed. The beds were nothing more than straw mats on wooden frames. It was very uncomfortable and the mice jumping all over the room spooked up the night. I barely slept. That was the toughest night to pass.
Day Five: Rara lake 🙂
Groggy from no sleep and disgusted by the state of the barely there toilets, we left the guest house as early as we could but the adventure that lay ahead made up for everything. The landscape was so beautiful, it looked unreal and it made up for all the bad experiences we'd had last night. I wished I'd slept inside the car instead.
The road leading to Rara is not for the weak hearted but looking down the precipitous cliff is another story altogether. There were snowflakes on either side of the road and although it had made the roads muddy and slippery, we enjoyed the freshness that it brought. For our next distribution which was for the students studying in the village Kudari, we were supposed to meet the headmaster on the way. The students of this school were who had inspired our trip after all. My parents and their friends had been to the Rara Lake 5 years ago. It was then only then that the place had become accessible to vehicles. Before that time, there was no road connecting Mugu to the rest of the world. They'd shovelled the roads by themselves and were shocked to see the life and livelihood of people who aged way beyond their years, their faces burned by the harsh sun and their harsh lives. At the lake, they had met school children from the village Kudari in Mugu who had come to the lake for their excursion. They sang songs and danced with these kids who touched their hearts so much that my dad was determined to return to the place 5 years later initiating a project for school support during his term as a President at the Rotary Club. During their last visit to Rara, their team had distributed everything that they had carried with them except the clothing they were in.
We met Jan Bahadur Malla, the headmaster of the school on the but weren't able to go to their village Kudari which was an hour walk away on foot as we also had another distribution to make. So he called all the children who came running to us, their sunburnt faces caked with dirt and snot but smiles so lovely, they lit up our day. I wished we were able to go to their school and visit some of their homes but that would have to be saved for the next time. We distributed them the school supplies and also the early loved clothes we'd taken with us. They were so happy that they'd get to wear new clothes at Dashain and we wished we'd taken more clothes.
Next, we went to a primary school that was located near Talcha airport. One thing that I'd noticed was that there were no chubby kids. They were all kind of thin but then, so are most children in Mugu; half of them are malnourished. They were all sat on the dusty ground in the sun but still happy and eager to see what was in stock for them from these well dressed and differently speaking people. We sang and danced with these children and even lectured them about the importance of education.
As soon as we passed them the goodies, they opened the bags to see what was inside, huge grins plastered on their faces which would have been even bigger, had we not forgotten to add some chocolates. But we'd been to the most privileged areas from the most underprivileged areas of Nepal. Looking around, there was human settlement at the top of dangerous looking cliffs. I wondered why people lived at such places and wished we could get there too but well, there's always a next time.
We then proceeded to the Rara Lake. Rara Lake is surrounded by Rara National Park which has unique floral/fauna and is important with rare and vulnerable species. Once you enter the National Park area, you have to either walk your way inside the Jungle or ride a horse to the Lake as vehicles are strictly prohibited. What dejected me as soon as we got there was the fact that the kids were delighted to see the Jeeps we'd traveled as they were still not used to seeing vehicles. Technology has entirely revolutionized the world the world that we live in and here these kids were, alienated even to the idea of basic human transportation facilities. I asked if anyone of them had ridden in one before. One little boy had traveled to Kalikot on a bus and that to him had been the best experience of his life. Most of these kids owned a horse and were eager to let the driver ride it in exchange for a ride on the jeep. To them, our Jeep drivers were the most important and respectable people amongst us. But then again, these were amongst the most privileged kids. As innocent as that seemed, it hurt even to imagine what life must be like at the more remote places.
We reached the lake, some of us riding horses and some of us on foot. Right beside the lake are guest houses that provide food and beds to the tourists. Dad said that there was nothing like that the last time they'd been there and they had to return to Talcha Airport for a place to sleep. A lot had changed indeed but even a lot is not enough, at a place like that.
Tourism was booming at Rara as there were many who had come to see the lake from cities like Chitwan, Pokhara and Kathmandu. There were so many people staying at the guest house that night that we couldn't get rooms so we slept in a tent, right next to the edge of the lake.
We did some merrymaking around the bonfire at night and went to bed, all of us happy and satisfied.
Day Six: Rara to Kalikot
If there is heaven on earth, then this is it at Rara because Rara Lake is undoubtedly the most beautiful lake in the world. I had never seen water as blue and as clean as there was at the Lake. The clean and pristine blue water settled calmly between the woods and we even had the honor of seeing the sun rising above the lake.
I could probably spend years in the beauty of nature that Rara rightfully boasts of but it was time for us to do the next distribution and head back home. It had almost been a week already!
Our next distribution was supposed to be at the village Murma near the lake and some of the people from there had come to welcome us but it was said that the school was two hour's walk away so we sadly couldn't go there and instead called school authorities to come with some children at the entrance of the national park area and distributed them there.
No shoes to cover their feet in the harsh cold and clothes barely enough to cover them up… The harsh reality of life hit us so hard that we gave away the sleeping bags, torches and everything we could spare. They went back home carrying more than their own weights and we were happy we could help.
Giving is hands-down the most impeccable feeling in the world; it's a feeling that soothes others, as well as ourselves and if you think about it, it's so small, the things that we gave.. the bags, sweaters, shoes, and everything that we gave might not even last them more than a year but our presence somehow has the power to change lives. Love can be a present. A smile can be a present. My point here is we all possess the power to give, regardless of our financial circumstances and I was really happy that I received the gift of happiness and gave them smiles and loves and maybe, even hope?
Day Seven: Kalikot to Bardiya
Stayed at Bardiya National park to celebrate the success of our project. 🙂
Day Eight: Bardiya to Lumbini
Sanitary pads distribution at two more schools so we couldn't make it home.
Day Nine: Lumbini to Pokhara
Bottom Line:
Many in Nepal believe that the Karnali District is on the map of Nepal only because of Rara, a crystalline lake, resplendent against the backdrop of the snowy Himalayas . The rest of Mugu may as well be a black hole and that has to change.
How can we help? By visiting! Tourism has somehow already boosted the economy of this place
How to get there? If you just want to chill at the lake, take a plane to Talcha but if you want to enjoy the gorgeous snow capped hills greeting you every now and then and be bestowed with an abundance of natural beauty, take the local bus, rent jeeps or hop on your bike and ride off.
What hurt?
There are lots of Kids. Men, Women, the old and young, all carrying infants. The people there should really be taught and given access to birth control.
Less than 40 percent of women have access to a hospital for births in Mugu. All the ages of the children here are approximations and when a child dies, they don't even have a picture to remember him/her by.
Dejected by harsh lives, the people there don't even understand the language of smiles.
The rich are getting richer and poor are getting poorer.